Thursday, December 2, 2010
What do think of our 2010 Christmas cards?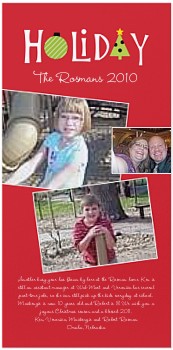 Fun Holiday Wishes Christmas

Posted by

Iteachscraps
at 10:59 AM

Welcome to the I Teach Scraps Blog!
Hello! I am excited to have my own blog site. This is way cool. I plan to use this site to promote my scrapbook instruction business, as well as pass on lots of scrapbooking tips and ideas to my family, friends and clients, both past and present. I'll also through a little of my personal life in for fun.Feel free to comment, ask questions, email me, ask me to post pictures of your projects, etc. Just let me know how I can help!