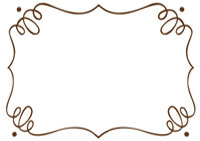 Ever since I started my blog, I've dreamed of the day when one of my projects would be featured on someone else's blog. Today is the day!
I am today's guest designer on the Frosted Designs blog for its Fabulous Friday challenge. This week's challenge was using buttons. I have to be honest...this challenge was a challenge for me. I don't use many buttons in my scrapbooks, cards, etc., unless I am told to use buttons. In fact, for this challenge I had to go buy buttons at my local craft store.
Then, I struggled to decide what to make. They didn't give many instructions beyond using buttons. I actually did several projects until I found the one I really liked.
Here is the winner...
Adorable ice cream cone-shaped card.
Side view of the card.
Close up of buttons and title.
The back of the card with my signature stamp.
To make this card, I used my Cricut Gypsy and my Simply Charmed cartridge. I selected the ice cream cone image, made a copy and used the flip function to flip it sideways. Then, I welded the two cones together to make a shaped card.
I also used the layers feature on the Gypsy to make the various details of the ice cream cone and make sure they fit the base properly.
Here is a video tutorial on how I made this card:
Now I said earlier that I did several button projects before I found my favorite one. First, I did a Fourth of July artwork that I framed and hung in my hallway. It was fun to make, but it didn't seem to feature the buttons enough.
Fourth of July hallway artwork.
Then, I did a baby card using buttons. I liked it, but something seemed odd about it. Ironically, the next day my sister called to say she was pregnant with twins.
Oh Baby! I found out that my sister was pregnant with twins the next day after I made this card.